| Welcome to Guesthouselisbon.com |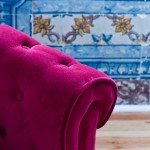 Dear Guest,
Let us introduce you our new site about Lisbons coziest bed and breakfasts and guesthouses. The Bed and Breakfast Casa do Bairro, the Ribeira Tejo Boutique Guesthouse, the Casa do Patio Boutique Bed and Breakfast and the Casas do Lisboa apartments are all waiting for you!
The rooms and apartments are always comfortables and we are waiting for you every morning with homemade breakfast.